SIC promotes the management of Erasmus + Mobility projects a: Students and Staff Mobility for placements. Read more about our Internships:
A new Spanish Partner in your mobility projects. ERASMUS + Mobility project
If you are looking for a new Spanish partner in Malaga our organisation will gladly support you in mobility projects ERASMUS + or help you to get in touch with our contacts from other European countries: Italy, Lithuania, Germany, etc.
Training places in internship companies in Malaga. Erasmus projects
Our company organise training placements in internship companies in Malaga for young students or workers who would like to immerse themselves in the Spanish language and culture while improving their professional career prospects within the framework of the ERASMUS + or other European programs.
At arrival a mobility coordinator will welcome the new beneficiaries and will help them with useful information. The beneficiaries will receive a schedule of the stay with information about the internship companies. The coordinator of the program will accompany the participants to the interview with the training companies.
In the end of the program the beneficiaries will receive from the internship company a Certificate of attendance.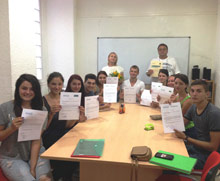 The main objective of the European programs is to support young people to obtain their first job, to help them to develop their professional career and to learn to work in an international environment. During the practice stage in Malaga the beneficiaries will have the opportunity to get in touch with Spanish companies and to establish possible future collaboration or why not to find the dreamed job.
For the duration of the program and after, our professional and experienced team that speaks various languages, will support you to get familiarised with Malaga and its culture and many others:
Support in case of emergency or illness (including weekends)

All the information about cultural activities and places to visit

Information about how to find a job or study in Malaga

We organize together with the students a "tapas" night tour or a cultural visit in group
Work visits or meetings for European experts
Many companies from countries that joined EU after 2004 and received European funds for business activities, innovation and projects are interested in visiting companies in Malaga with a view to exchanging information concerning the Spanish system of work in Malaga and developing cooperation between partners.
In the Technological Park of Andalusia ( PTA Malaga) the visitants will have the opportunity to see "incubators" that are leased to entrepreneurs with all the facilities for the implementation of business activities.
We organise work visits or meeting for European experts who are interested in establishing links with and cooperating with business partners in the Malaga region.
A coordinator/interpreter can set up the meetings and be on hand to provide support when needed.
In the end of the program we will produce a Certificate of attendance and a report if required.
Cultural visits (tourist visits) for smal groups (business or tourist)
Our profesionals can organize for you a nice stay in Malaga  (booking your hotel, visits to tourist atraction in Malaga region, visits to Flamenco places, "night out",etc. A tourist guide, English, Spanish and Romanian speaker will acompany your group during your stay in Malaga to help you to have a great experience in Malaga.
For this service please contact us with time.